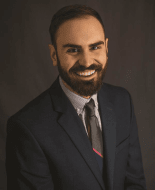 Get financial services product options in Chicago, IL
from State Farm® insurance agent
Nick Kosiek
See reviews
Get a financial services insurance quote
State Farm can help you find the right financial services insurance coverage at a competitive price.
Why choose State Farm? 
Invest in your future with State Farm! We're here to help you make informed choices every step of the way, so you can achieve your financial goals.
Plenty of options
State Farm can help you choose from financial products like bank accounts, mortgages, mutual funds, annuities, and more.
Personalized solutions
Everyone has different dreams for the future. That's why we offer a range of products that can be tailored to match your financial goals.
Agent know-how 
Banking and investing don't have to be confusing. Your local State Farm agent is here to answer your questions.
About me
State Farm insurance agent
Agent license IL-16938900, IN-3625739
Offering auto insurance, life insurance, home insurance
Health insurance, business insurance, boat insurance
Serving Rogers Park, Edgewater, Uptown, Andersonville,
Chicago, and the Chicagoland area
Office details
Address
1771 W Greenleaf Ave, Chicago, IL 60626
See map and directions
Office hours
| | |
| --- | --- |
| Sunday | Closed |
| Monday | 09:00AM-05:00PM |
| Tuesday | 09:00AM-05:00PM |
| Wednesday | 09:00AM-05:00PM |
| Thursday | 09:00AM-05:00PM |
| Friday | 09:00AM-05:00PM |
| Saturday | Closed |
Insurance products
Auto
Home
Property
Business
Life
Health
Specialty products
Recent reviews
Best insurance agent in the neighborhood.