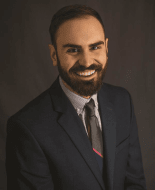 Get auto insurance coverage options in Chicago, IL
from State Farm® insurance agent
Nick Kosiek
See reviews
Get an auto insurance quote
State Farm can help you find the right auto insurance coverage at a competitive price.
Auto insurance discounts and savings
Choose State Farm and save! As a State Farm customer, you could qualify for one or more of the many auto insurance discounts we offer, including:
Safe driver
Get rewarded for safe driving habits. You may be eligible to save on rates by maintaining an accident-free driving record, taking a defensive driving course, driving the speed limit, and more.
Safe vehicle
Do you have a newer car that's equipped with the latest safety features, like anti-theft devices or anti-lock brakes? Depending on your car's year, make, and model, you could qualify for discounts.
Loyal customer
Bundle and save! Adding more than one car to your policy or purchasing multiple policies from State Farm (such as auto, home, and life insurance) can put money back in your pocket.
Discounts and their availability may vary by state and eligibility requirements. Not all vehicles or drivers are eligible for discounts.
About me
State Farm insurance agent
Agent license IL-16938900, IN-3625739
Offering auto insurance, life insurance, home insurance
Health insurance, business insurance, boat insurance
Serving Rogers Park, Edgewater, Uptown, Andersonville,
Chicago, and the Chicagoland area
Office details
Address
1771 W Greenleaf Ave, Chicago, IL 60626
See map and directions
Office hours
| | |
| --- | --- |
| Sunday | Closed |
| Monday | 09:00AM-05:00PM |
| Tuesday | 09:00AM-05:00PM |
| Wednesday | 09:00AM-05:00PM |
| Thursday | 09:00AM-05:00PM |
| Friday | 09:00AM-05:00PM |
| Saturday | Closed |
Insurance products
Auto
Home
Property
Business
Life
Health
Specialty products
Recent reviews
I can't speak highly enough of Nick and his team. Every single time that I have reached out to Nick regarding coverage, he responds in such a timely manner with a clear and concise answer. This review was prompted because we just had a baby and our AC is acting a little funny. Nick addressed the changes that needed to be made so our condo association could approve the work. This was literally done within minutes of reaching out. Nick even has the best Chicago neighborhood rec's. I honestly have no reservations about Nick from State Farm. Let him be your agent, you won't regret it!
Best insurance agent in the neighborhood.